Lido 84 is a visually stunning restaurant on the edge of Lake Garda in northern Italy, set in the village of Gardone Riviera and housed in a historic building decorated with striking Art Deco and contemporary works. Here, the Camanini brothers – Riccardo, the chef, and Giancarlo, the restaurateur – have created a small, thoughtfully crafted venue with a stellar gastronomic offer.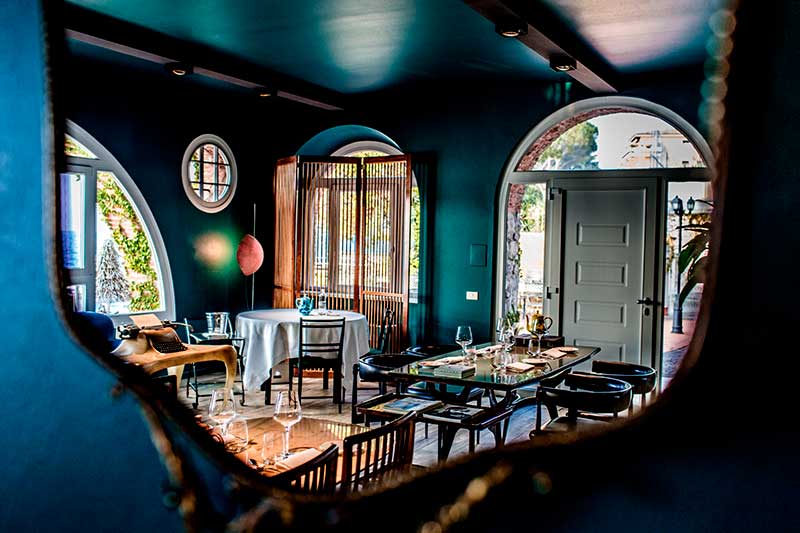 Nowadays has been garnering growing global attention and appreciation, debuting on The World's 50 Best Restaurants 2021, sponsored by S.Pellegrino & Acqua Panna, in No.15 position.
"We were born in a family where eating was linked to community," recalls Riccardo. "Very often, at weekends, we would be 10 or 12 people between relatives, uncles, nieces and nephews. Our grandmothers cooked and there was a vegetable garden, as well as rabbits and chickens – those small family pantries that are very genuine and very tasty. So we represent Italy because of what we had the good fortune to experience as children – a good and genuine cuisine that is made within the family. This is perhaps the true Italian specificity: that good cuisine is already evident in the home."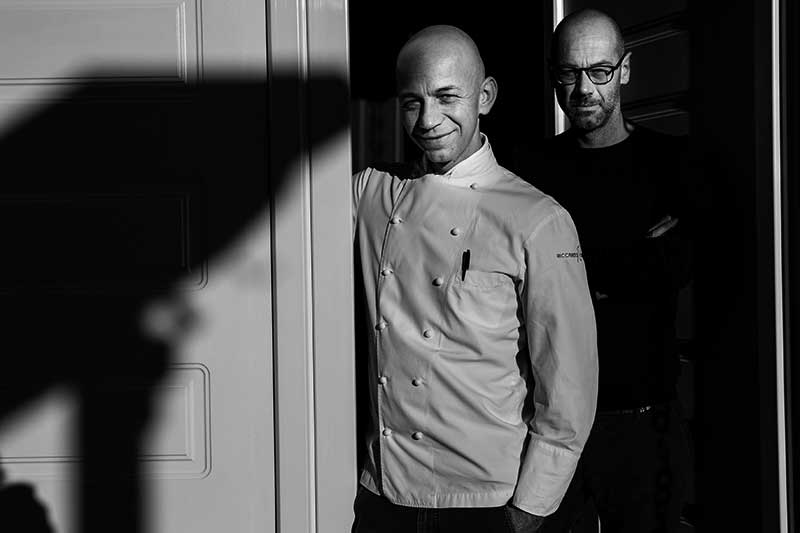 This is linked to the concept of quality time, which is essential to how the brothers run Lido 84. Especially after the pandemic, they reflect, people who go out to eat at restaurants do so in search of a special quality of time – shared with others, enjoyed to the full and later cherished.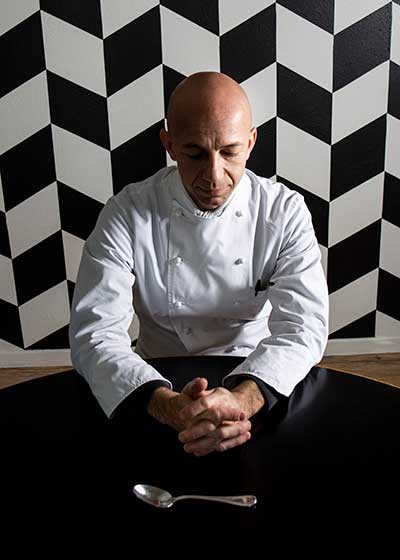 RICCARDO CAMANINI
Italian Chef Riccardo Camanini grew up in a small village near Bergamo in Lombardy. At the age of 19, he landed a job working under revered Italian chef Gualtiero Marchesi, and this is when his calling in the culinary industry came into fruition, explains Camanini, "I fell in love with the design of food and fine dining. I experience a new way of cooking; a cuisine made of art, something that reinterpreted time and space, making the most of both the material and spiritual aspects of a raw ingredient".
Armed with a newfound culinary obsession and a freshly honed set of skills, Riccardo left Italy for the United Kingdom in hopes of widening gastronomic perspective. 'I wanted to understand French classical cuisine so I went to work with Raymond Blanc at Le Manoir aux Quat'Saisons, and then in Paris with Alain Ducasse's right-hand man, Jean-Louis Nomicos, at La Grande Cascade.
It was when he was offered the position of head chef of Villa Fiordaliso, a gourmet hotelrestaurant on the shores of Lake Garda, that he decided to return home to Italy. Aged just 24 at the time, the young chef approached the challenge hand-on and immersed himself in his role, quickly learning how to effectively manage his team, organize the business and wholly embrace responsibility for the entire establishment and its operations.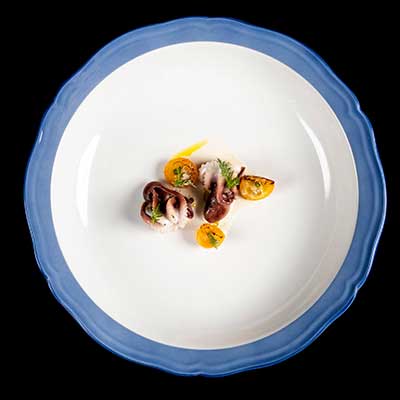 In 2014, at the age of 40, Riccardo felt the need for change. Along with his brother, Giancarlo, they invested their savings into what was then a dilapidated building in the lush Gardone Riviera, and their restaurant, Lido 84, was born. Shaded by camphor and olive trees and lapped by the iridescent Lake Garda waters, the restaurant was their gift to themselves, and an opportunity for the brothers to finally realize their dream of owning their very own restaurant.
'We found a retro lido by Lake Garda, which was owned by an old lady and her family. We wanted to respect her legacy and kept the name Lido 84. In fact, we made very few changes to the actual building, but designed a décor that was inspired by the colours of the lake, 1960s Art Deco and the works of celebrated Italian film director Federico Fellini.
"Our philosophy for the restaurant was to pay homage to the quality of time. We look at the dining experience as a whole; every detail counts and our dishes must show respect to the ingredients we use and the customers who come through our doors. I respect the products, the techniques and the mystery that can be found in every plate of food".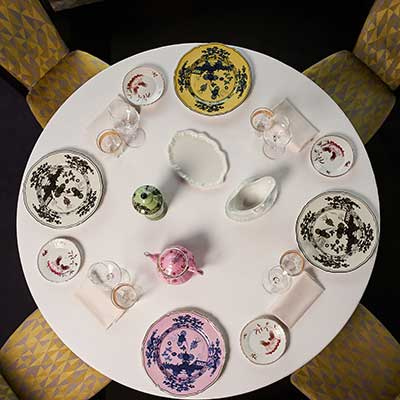 Perhaps the most obvious example of Riccardo's cooking philosophy is his infamous dish of Cacio e Pepe cooked inside a pig's bladder – quite possibly one of the most Instagrammed dishes in Italy.
"The idea came about one day after work when I went back to my brother's house", he explains. "We poured a glass of wine and watched television. I had been thinking about creating a spicy, strong dish for the menu but didn't know which direction to go in. I'd read about this Roman technique of using animal organs as containers to cook in – Bartolomeo Scappi, the Pope's chef in the 1500s wrote a whole book about it. After trying a few different pasta dishes that turned out too al dente, I decided cacio e pepe had just enough cheese and liquid to make the pasta soft enough. It took a long time to get the dish right but it is a favourite of mine."
Working with people like Gualtiero Marchesi and Raymond Blanc has made produce just as important as the cooking techniques for Riccardo, and he's constantly working with suppliers to make sure he only gets the very best. "We have an excellent fisherman who catches us pike and sardines from the lake, and a butcher who is just as open-minded as me. We are also resourceful – we make the most of the cedar trees and herbs surrounding us, using an extractor to make juices and oils from what we forage, to add to broths or risottos".
WORLD DISHES
THREE THINGS YOU SHOULD KNOW
1. Over the last few years, the Camanini's have doubled down on making Lido 84 the best restaurant it can be. This has meant growing from a team of seven in 2014 to a team of 24 in 2021, going deeper in the search for excellent products, and even reducing the number of tables in the dining room to offer each customer an increasingly outstanding hospitality experience. For them, it all boils down to an attempt to represent Italian identity in all its facets, from gastronomy to service and décor.
2. The House Special is Rigatoni 'Cacio e Pepe' cooked in pig's bladder, where Roman peasant marries French royalty : the result is a perfectly clean yet powerful pasta that contains nothing more, nothing less than necessary. A clever and evolutionary dish that at the same time feels so humble and heartwarming.
3. The profession of restaurateur is embraced in all its meanings. You will experience a guests-first mindset. We are aware the guests want to be heard, known, and empowered, and we are tasked with the challenge to anticipate their needs and deliver a wide array of great experiences.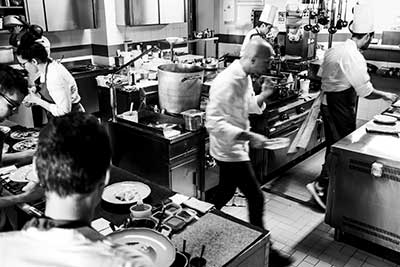 AWARDS
July 2015 selected into the best 37 worldwide chef for the Gelinaz Shuffle Event
Alain Ducasse came to cook in Lido 84
November 2015 new ranking into L'Espresso Guide with 18/20 e 3 Hut positioning Lido 84 between the best 30 Restaurant in Italy
November 2015 new Ranking into Gambero Rosso Guide with 84/100
May 2016 selected into the best 100 European Restaurant, 79 over/100 by OAD (Opinionated About Dining) and selected between the best 9 European Start Up
July 2016 Selected to be present into the MOMA of San Francisco with: "Spaghettoni Butter and dried Yeast"
November 2016 Rigatoni Cacio e Pepe Cooked into the Pork Bladder
Best Dish for Identità Golose 2016 and More Cited Dish in Italy for 101 food writer respondents
December 2016 Considered among the 10 Most Influential Chefs for 2017
Il Mattino di Napoli
December 2016 Chef of the Year for Identità Golose 2017
November 2017 Best Restaurant Service in Italy for the Gambero Rosso Guide 2018
November 2017 Rice of the Year for l'Espresso Guide 2018
November 2017 Double Buttons with Ricotta Cheese, Lemon, Cabbage, Mackerel elected Dish of the Year for Identità Golose 2018
October 2018 Best Performance and 5 hats for L'Espresso Guide
October 2018 3 Forks for the Gambero Rosso Guide
February 2019 Cacio e Pepe en vessie elected House Special for the World Restaurant Awards
June 2019 Receives the Miele One To Watch Award 2019 at The World's 50 Best
Restaurants 2019 awards ceremony at Marina Bay Sands in Singapore
June 2020 4/100 for Top 100+ European Restaurants 2019
OAD (Opinionated About Dining)
October 2021 15/50 The World's 50 Best Restaurants 2021, Highest New Entry Award